Applications

Disposable / Low Pressure Cylinders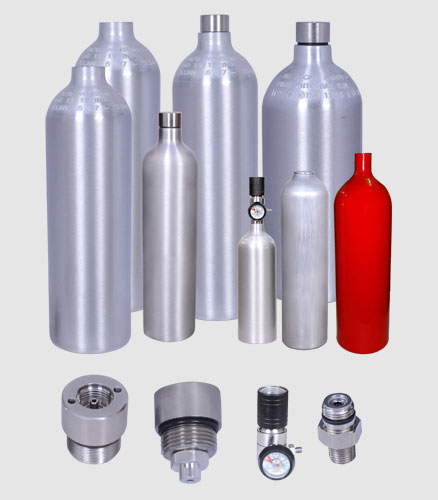 Al-can is India's first manufacturer of Low Pressure Cylinders / Disposable cylinders for speciality and calibration gases.
For special request of customer to pack reactive and corrosive gases, Al-can cylinders are designed to improve the stability of speciality and calibration gases with our special internal treatment QT-20 finish which creates hydrophobic layer on the internal surface of the cylinder which does not absorb the gas molecule.
SPECIFICATION
WORKING CAPACITY
0.495ML W.C TO 1.8 LTR W.C.
WORKING PRESSURE
25 BAR TO 70 BAR.
STANDARD
Cylinders are made strictly as per safety standards, assuring a consistent and stable performance.
Approved by petroleum and explosive safety Organization (PESO), Govt of India.
ISO 11118 with "Pi" (π) Mark (TPED) approved from Apragaz.
VALVE
C10 VALVE, 1″(REFILLABLE / NON REFILLABLE).
FLOW REGULATOR WITH PRESSURE GAUGE.
Quality
AL-CAN cylinders are the best choice for various gases because it maintains gas purity. Special internal treatments available on request for highly corrosive gases like H2O, SO2, NH3, CL2, N2O, NO2, NO, CO.
Material
Manufacture from High strength aluminum alloy 6061A.
Threads
ISO 11363 & ISO 11118 – 1″- 14UNS,0.750″-16UNF Thread or available as per request.
Markings
As per international standard. Additional marking available upon request.
Finish
Standard finish is brushed body with clear lacquered makes it elegant in look and neck color as per gas to be filled.
Graphics
Logos or labels available upon request.
FEATURES
Seamless, Light Weight Cylinder (40% Lighter than steel cylinder).
Easy to handle and transportation.
Corrosion Resistant interior and exterior wall surface.
Non-Magnetic.
No Special Maintence required, only require requalification every five years.
send an Enquiry